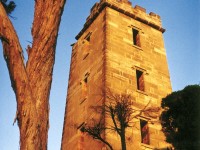 Sunday is all about exploring Eden's most special places, and keeping an eye out for whales at all times!
Bus tours 11am and 2pm.
The tour lasts an hour is a great way to experience the town's beautiful natural and cultural landscape, so leave the driving to someone else and get to know a few of the locals.
Bookings can be made at Eden Visitor Information Centre on (02) 6496 1953 as spaces are limited.
Tickets are $10 for adult, $5 for children.
Self – guided: Take the Killer Whale Trail
Take a self drive the Killer Whale Trail and a picnic and discover how wild killer whales worked with Aboriginal and European Whalers for generations. This half-day self-guided tour includes five stops in Eden and Ben Boyd National Park, including a special open day at Davidson's Whaling Station.
Further south, Green Cape Light House also offers spectacular shore based whale watching on Australia's second most eastern point. The historical maritime precinct is located 40 minutes drive south of Eden on a clearly signposted sealed and unsealed road.