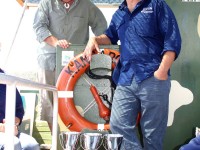 Sydney Rock Oysters are an important local industry with four major estuaries – Wapengo, Merimbula, Pambula and Wonboyn Lakes. Each produces a subtle change in taste, and you can try them all and sign up for the comp at the Sapphire Coast Wilderness Oysters marquee on Saturday, October 29.
Our farmers open thousands of oysters over the festival but they also manage to host an oyster shucking competition with divisions for punters as well as professionals. It's a flurry of shells and banter as the farmers open as many of the delicious morsels as they can before the bell rings. The winner is presented with a trophy to show off for the next 12 months.
Amateurs will get a quick lesson, glove and knife from the farmers beforehand. The prize? A hefty bag of oysters! (Those with experience in the culinary or seafood industries will enter the pro category).
More oyster experiences on the Sapphire Coast.