CHECK OUT THE BIG ONE
The Eden Whale Festival's 'Big One' is exactly that. Entertainment from morning to night on Saturday will please the entire family!
The day starts with exhibitions and kite flying early then the high energy street parade in the heart of Eden.
After a full day of music, displays and events the day finishes with the sky lighting up to the region's best fireworks display at 9pm.
Click on the title of individual events in blue for further details.
From Early     Kite Flying Displays – Various locations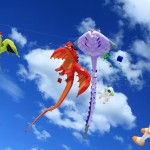 8.00am           Poets Breakfast – Uniting Church Hall
9:00am           Open Model Display – Eden RSL Hall
9:30am           Exhibitions Open– Five displays in one location at the Wheeler's Exhibition Centre @179 Imlay St.
9:30am           Marine Rescue Open Day – Saturday and Sunday
10:00am        Benjamin Boyd History Centre @Boydtown
10.00am         Festival Parade – Starts at Fishermen's Club
11.30am         Festival Opening and Small Stage Entertainment Commences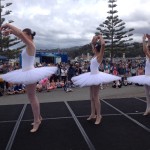 12:30pm          Large Stage  Entertainment Commences
9:00pm           Spectacular Fireworks Show at Festival Grounds
All day activities at the festival grounds
Music and Performers on 2 Stages Headliners the Figmentz with support from Mewstone Rock, Melbourne duo the New Savages, Red Heart Blue full 5 piece band and the EMHS Soul Band. Local dancers, school bands, drummers and children's performers.
Kite Flying  From Early at Eden Marine High School and Various Locations. The Australians Kite Flying Society, organisers for Festival of the Winds Bondi Beach, will be flying their fantastic kites of all shapes and sizes. Join a kite making workshop or bring your own.
Seafood Showcase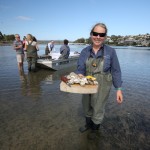 Our best seafood will be on display with a full program with expert chefs doing cooking demos and an oyster shucking competition.
Dolphin Research Institute 19 Meter Whale Display – Eden Marine High. Walk through a life size 19 meter whale. Learn all about the whales that pass Eden on their annual migration.
Great Australian Fishing Show Take an underwater journey with a massive display, complete with up to 20 live fish. Part portable fishing show, part mobile fish tank and part educational program, the 14,000 litre tank is designed to give the public a fish-eye-view on the world of angling.
Rob Bast Champion Chainsaw Carver Rob will be carving up another masterpiece at this year's festival.
Regional Produce and Art Market See the wide variety of market stalls featuring local art, craft, produce and products.
Food Vendors Huge variety of food vans and vendors offering fresh and creative dishes. Seafood, mexican, asian, coffee, smoothies and more!
Kids Activities and Rides Arts and crafts, jumping castles, bubbles soccer, water jousting and sports and more!
Timber Sports Showcase Rob Bast Champion Chainsaw Carver will carve up a special sculpture for the festival. The world's top wood chopper Laurence O'toole will also be showing off his talent and competing against our best local choppers. Wood chopping comp all day.
Car, Camping and Fishing Expo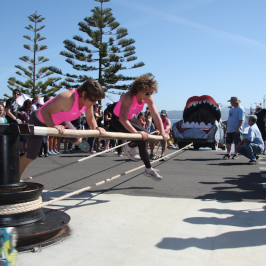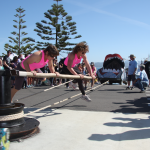 We are bringing all the best toys to you with the help of local distributors of Australia's top car, caravan, camping, fishing and boat manufacturers.
Eden Game Development 3D Display Soccer Rooms Festival Grounds. Come try some Virtual Reality gaming and learn more about game development.
Sapphire Coast Marine Discovery Centre Mobile "Crazy Critters" Exhibit Hands on exhibit with touch tank and a variety of dried specimens to touch and discover. There will also be marine themed merchandise including alternatives to plastics and a great kids raffle.
Machine and Industry Display Rural Bushfire Team, SETA Forestry Display
Eden Spinners and Weavers Festival Grounds Exhibition of beautiful locally made wool products and spinning and weaving demonstrations.
(Offsite) Traditional and Contemporary Basket Weaving Exhibition From 11:30-4:30 @ Eden Fishermen's Club. Award winning Yuin/Monaro woman Dawn Mongta is exhibiting her traditional and contemporary natural fibre weaving of baskets, mats, traps and family shellwork.
Competitions Time TBD
Freedom Charters Biggest Tosser Come see how far you can toss the 'blubba' win prizes, the coveted Biggest Tosser Shirt and a trip on Freedom Charters!
Capstan Pull Watch teams as they try to defeat the 'wheel of death'. Want to take it on? Enter your interest with Marty Davidson 6496 3646
Oyster Shucking Contest Sapphire Coast Wilderness Oysters host an amateur shucking competition. Put your name down on the day.
Kite Making Workshops Come make and decorate your own kite and fly alongside our professional kite flyers.