Rosalind (Ros) and Gordon Butt really know their whales. And with the 2014 whale watching season being their 25th out on the waters surrounding Eden, how could they not?!
"We've had 80 odd trips out from the Port of Eden this season so far. And we've got a 100% sightings success rate," said Ros talking today from on board the purpose-built catamaran her and husband Gordon operate as Cat Balou Cruises.
She pauses in conversation as loud cheers can be heard in the background – it's the happy cheers from passengers as another whale breaches alongside the boat.
"There are so many mothers and calves coming through at the moment. Of course we get the Humpbacks but this season we've also had a few Southern Rights, Dwarf Minkes, False Killer Whales and Bryde's whales," she continued.
And seemingly there's no sign of the numbers slowing down just yet.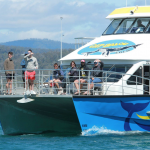 "This past week we've had researchers on board from the Pacific Whale Foundation in Hawaii. They've been doing identification and photography work and have matched animals they sighted up in Hervey Bay 23 days later in Eden. A rather quick trip don't you think?" said Ros.
Ros and Gordon have operated Cat Balou Cruises from Eden since 1987. They were the first to undertake whale watching in NSW and are therefore the longest established whale watching operators in the state.
Ros' incredible images (see gallery below) also provide crucial data for researches who identify whales through individual markings on flukes.
The pair live and work in Eden and their family owned and operated business has gained the reputation of maintaining high safety standards, exceptional services and value, and above all the pair love sharing their love of Eden and nature with their passengers.
Ros says she is looking forward to this year's Eden Whale Festival.
"We've created some early whale watching cruises this year so that passengers can go out early in the day and get back in time for the festival parade," Ros concluded.
If you're visiting Eden for the Eden Whale Festival there are still vacancies aboard a Cat Balou Whale watching cruise. On Saturday 1 November you can jump aboard at 7am, 10am and 1pm, or on Sunday 2 November join the 11.45am cruise. All cruises are 2 ½ hours long and it's your chance to get up close and personal to Eden's beautiful whales.
To book with Cat Balou Cruises call 0427 962 027. For more information on Cat Balou Cruises visit www.catbalou.com.au