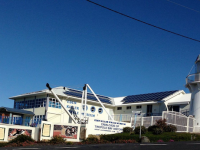 Blockbuster movie effects extraordinaire and Killers in Eden co-creator Greg McKee will open this year's Eden Whale Festival at Eden Killer Whale Museum on Friday, October 30.
The animatronics and Computer Generated Images (CGI) expert was a close friend of historian Rene Davidson, grandson of Master Whaler George Davidson, and through him was able to delve deeply into the history and stories surrounding the partnership between man and wild orca.
This year marks the 10th anniversary of Killers in Eden, created by Greg and Mathre Duchesne and special screenings will be held across the festival weekend.
Greg will share behind the scenes yarns about the creation of the documentary, his ongoing fascination for Eden's maritime history as well as his experiences creating powerful visual effects for block busters Happy Feet, Babe, Peter Pan, The Matrix, Star Wars episode III, Mad Max and Unbroken. These effects included nutting out the technology behind Babe's famous talking sheep but also free swimming sharks, and a full size 38ft ocean going humpback whale. His You Tube channel has excellent behind the scenes, including preliminary CGI for Killers in Eden, check it out!
Rarely a year goes by that whales aren't seen during the festival opening, and the museum's huge viewing deck is a great spot for watching whales over afternoon tea.
Arrive early and discover the stories of our place, including maritime, Aboriginal and pioneering history.
Special exhibitions include In Demand: Advertising & the Second World War (to January 2017); War At Sea:The Navy in WW1 (8 Sept – 18 Oct); Etched in Stone: the stories behind the names of Eden's War Memorial (21 Oct – 2 Dec) and the book shop is a must-stop for readers and history lovers.