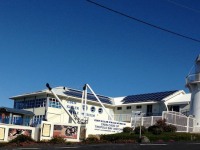 Explore the bay on a whale watching charter or shore based whale watching adventure in the morning then head back to town for the official launch and art exhibitions.
Rarely a year goes by that whales aren't seen during the festival opening, and the museum's huge viewing deck is a great spot for watching whales over afternoon tea.
Arrive early and discover the stories of our place, including maritime, Aboriginal and pioneering history.
Friday Events
1:30pm – 3:00pm Festival Launch – Speakers, music performances, welcome to country Eden Killer Whale Museum
6:00pm Exhibitions Launch – View the work of artists from the BVSC and further afield. Photography, Woodworking, Trashformation & Imlay Crafts Pottery Eden Fishermen's Recreation Club
Check back in October for full details of our Friday Festival Launch