Date/Time
Date(s) - 01/11/2014 - 02/11/2014
All Day
Location
Pop-up Gallery
Category(ies)
"I was starting to see that working with wood the natural way meant more than just working with unseasoned, soft hearted timbers, it was a nod to the forest, an appreciation of using your hands to craft living trees into functional forms that still have an essence of life in their design." Woodsmith and exhibition organiser Jeff Donne.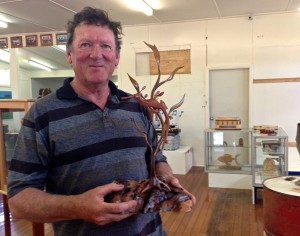 The fresh scent of turned wood, tools and sculpture that harks back to yesteryear with love – it's Artists Who Wood.
Last year's inaugural event revealed that Pambula wood smith Jeff Donne had tapped into something mighty when he dreamed of a competition, exhibition and workshops on wood work.
He is a follower of natural wood working, preferring foot powered lathes and hand tools to create his pieces, and the exhibition reflects that with a $750 prize for the best "unplugged'  piece. The open division has $1000 prize, an increase on last year after Jeff and sponsor NSW Forestry Corporation were amazed by the high calibre of entries. School kids and Tafe students (or anyone under the age of 18) also have a division with a prize of $250.
Be sure to drop into the pop-up gallery in Imlay Street Eden (Venue and times TBA).