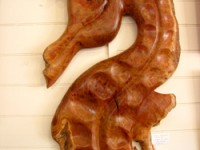 Get creative with woodworking skills and you could win $1000 for your efforts!
The 2015 Artists who Wood competition is back with $1000 for first place, $750 for the Unplugged division and $250 for students at high school and Tafe. The event is again sponsored by NSW Forestry Corporation and hosted by the Eden Men's Shed and the Eden Whale Festival.
Visitors to the exhibition can expect to see some incredible skills on display and a strong focus on handcrafted creations.
Entry is free and entries close on October 23.
Download the Artist Who Wood 2015 Entry Form
or contact Dallas Cocks (02 6496 1950 or 0427 108 997) or Ross Dobbyns (02 6496 1326) for more information.