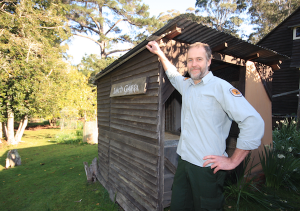 Follow in the wake of the whalers themselves as you travel from Snug Cove to historic Davidson's Whaling Station in the southern corner of Twofold Bay.
The station is a very special place to the people of Eden and is the site of Australia's longest running shore based whaling operation. On the pristine beach you will see the artefacts of the try works which were used by the Davidson family for more than three generations. Above the inlet lies Loch Garra, the family homestead and the still tended gardens and grounds.
It was here the wild killer whales like Old Tom would come and splash about to alert the whalers once they had herded a whale into Twofold Bay. While the killer whales would bite and harass the whales, they were only interested in eating the tongue and lips. As a reward for their cooperation, the whalers would anchor the dead whale and mark its location so the killers could eat before the whale would be towed to shore to be processed.
Davidsons used row boats and hand held harpoons, their only concession to modern technology was the purchase of a motor boat in 1908 to tow the carcasses to back to the try-works. They hunted a small number of whales compared to later international whaling enterprises.
Bookings: NPWS stall at Snug Cove, Saturday, November 2, $20pp.
To find out more about this remarkable tale take the self-guided tour Killer Whale Trail