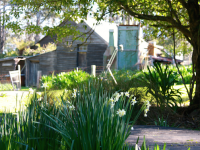 The now peaceful shores of the beautiful Kiah Inlet are still home to some of the old try works, overlooked by the Davidson's home, Loch Garra.
In the off season the whalers often turned to timber cutting, and this year we welcome the South East Axeman's Association who will demonstrate the old ways of cutting and milling timber. The bushmen will demonstrate sleeper cutting, the use of broad axes and cross cutters and other tools.
Explore beautiful and historic site and chat to the locals over a cup of billy tea and a bite off the bbq.
There will be damper on the fire, billy tea on the boil and demonstrations of old hand held timber cutting.
"Davos' is part of the Killer Whale Trail, a self guided drive around Twofold Bay. The Seahorse Inn is another, and will have live music over lunch as part of Discover Eden.  Read more.