Date/Time
Date(s) - 02/11/2019
3:00 pm to 4:00 pm
Location
Eden Sports Ground
Category(ies)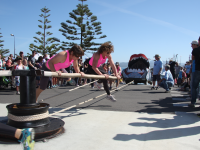 Have you got what it takes to survive the 'wheel of death'?
Entries are being called for the Nolans Capstan Pull, a team event which re-enacts the gruesome task of hauling blubber through the try-works. These days our whale is Benny, a festival favourite that was once a Mitsubishi Sigma.
Team members 'harpoon a whale', then race to the capstan to haul Benny from the water's edge, and there are great prizes on offer. One team member anchors the rope while the others wind the capstan.
Hundreds of dollars up for grabs for the winners!
To register before the event, call Marty Davidson, descendant of George Davidson the whaler, on 6496 3646 (during business hours) or register at the Eden Whale Festival stall on Saturday. Covered shoes must be worn and there will be benefits for anyone in uniform!
Generously sponsored by Nolans Auto Parts.