Date/Time
Date(s) - 26/10/2016 - 31/10/2016
All Day
Location
Full Fathom Five
Category(ies)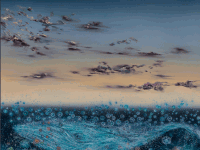 Anna Warren's new exhibition of oil painting "A change of wind" continues to explore oceanic life through stormy skies, oceans and surreal whimsical sea creatures.
Her new paintings include whales swimming through intricate jellyfish, seahorses swaying above crayfish, dandelion fish falling from the sky, storms brewing, sailing sea dragons and dragonflies and goldfish.
Open 11am to 2.30 on Wednesday October 26 and continuing through to Monday, October 31 at Full Fathom Five, Eden Wharf Building.
Wednesday to Friday 11am – 2.30
Saturday 9am – 5pm
Sunday 10am – 3.30pm