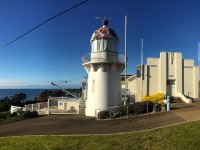 The Eden Killer Whale Museum, final resting place of Old Tom the killer whale, will host the festival opening.
The festival will be opened by newly elected Bega valley Shire Council Mayor Kristy Mcbain. You can hear stories from local Aboriginal elder Pastor Ossie Cruse in a welcome to country and hear performances from Eden Marine High School and Eden Public School.
Afternoon tea will be served on the museum's deck, where you can spot whales in Twofold Bay.
Two special exhibitions are currently running at the museum. The first is Etched in Stone: The stories behind the names of Eden's War Memorial.
The second, In Demand: Advertising & the Second World War, looks at advertisements that featured in Australian women's magazines during the Second World War, and the ways in which they promoted the war effort of companies and civilians, patriotism, and a shift in marketing women's products.