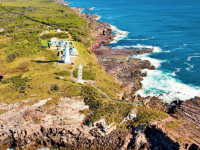 Saturday, Sunday, 1pm and 3pm
Adults $10, families $25, children $5
Step into the migration at the historic Greencape Lighthouse in Ben Boyd National Park.
Around 35km south of Eden, the Green Cape peninsular is Australia's second most eastern point, which means it reaches far to sea and right into the migration path. Whales are easy to spot, but also look for seals, shearwaters (who undertake the longest migration of any bird on the Earth), albatross, eagles. Back on land it's a haven for wombats, and even some endangered species like ground dwelling parrots and spotted quolls.
On festival days you can climb the light house with the keeper and get a bird's eye view of the landscape, from Mount Imlay in the north and south to Wonboyn and Nadgee Nature Reserve.
While you are on the peninsular, visit Pulpit Rock & City Rock, where world record game fish have been caught by rock fishermen, and the Disaster Bay Lookout. If you still want more, Bitangabee Bay is a sheltered bay with azure waters and plenty of places to throw down a picnic blanket for lunch.