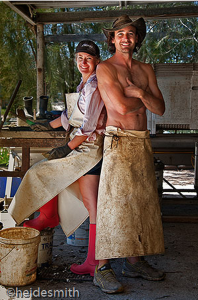 Saturday 9.30am – 3pm. Sunday 9am – 2pm
Venue: Sapphire Coast Marine Discovery Centre
See the world of the oyster farmer through the lens of photographer Heidi Smith at this touring exhibition.
Shot on oyster farms and sheds from the Victorian border to Shoalhaven, Faces of Australia's Oyster Coast tells the stories of around 50 farmers and offers a glimpse of their world.
The growing industry has long been a producer of award winning Sydney Rock Oysters, and the passionate growers work together to preserve the clean waters that are so crucial to oyster quality. and taste.
Heidi admires the farmers dedication, and enjoys watching the punts move around the estuary from her Narooma home.
"They seem so connected with nature and that to me is a good way to be," she said.
"What I love about this collection is it shows the very essence of the people who work in the industry along the coast; honest hard working men and women.
The exhibition is hosted by the Sapphire Coast Marine Discovery Centre and will open on Friday, October 31 with a Oysters, Wine and Whales night from 5.30pm.
Guests can sample Sapphire Coast Oysters, meet Heidi and some of the farmers and hear a bit about the whale migration from National Parks and Wildlife expert Geoff Ross.
More on the opening here