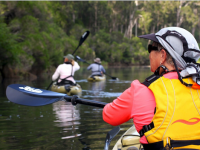 Nature at your own pace!
Kiah Wilderness Tours offer an exclusive 2 hour Whale Festival Family Kayak Tour on Friday, October 30.
Tour the beautiful sandy Towamba River estuary in style with an experienced local guide, and enjoy plunger coffee (or your preferred beverage) and a snack.
Special offer: Usual cost is $60 per person – we are offering the littlest one a free ride, so total cost is only $240 for the whole family.
Conditions apply: Booking must be for a minimum of 3 adults (or child 8 years+) on single kayaks + 1 adult and 1 child (4 to 8 years) on our brand new double Hobie. (i.e. total of 4 paying paddlers)
All safety equipment provided. No experience needed.
Book now to avoid disappointment as there is only ONE tour running on the festival weekend and this is it!
email: office@kiahwildernesstours.com.au or call 0429 961 047.