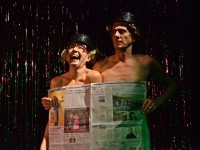 It's a little bit naughty and a lot of fun!
Take a highly skilled English Gentleman juggler and marry him to a Kazadorian*  farm girl who learnt contortion through questionable means and has a twisted understanding of the English language, wait 25 years and then you get the Kiki and Pascal experience.
This is a hilarious show about the journey of an unlikely couple that will make you laugh, in both good and bad ways, as they invite you into their lives through a series of beautiful and highly skilled variety acts including acrobatics, singing, juggling, contortion and magic. They look great, they are very funny, extremely talented and they may even make you cry…ok that only works on people who weep during toilet paper commercials. They are guaranteed to give you a very good time, exciting all the senses, including the one that makes you groan. This show makes you feel part of something great and makes the world a brighter place.
Don't miss it, because everyone will be talking about it, but they won't be able to explain it.
*Kazador is a small European country, so small that since Kiki left it, she cannot find it again. It is like they took it clean off the map!
Support by Rhys the Trickster.
Tickets $20 available Eden Fishermens Recreation Club, 02 6496 1577.
Thanks to Eden Fishermens Recreation Club for their generous sponsorship!