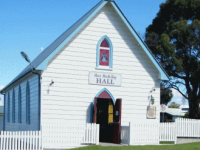 Eden's first saint, Mary MacKillop, has a strong link with Eden. She founded the St Joseph's Catholic Primary School following the death of her mother in a shipwreck at Green Cape in 1886. The story is shared at Mary MacKillop hall, still tended by Josephite Sisters, and once the Our Lady Star of the Sea Catholic Church.
Mary MacKillop was born in 1842 and founded the Catholic order of the Sisters of St Joseph after setting up a school in Penola, South Australia, in 1866. She spent her life educating and caring for people from all walks of life. She maintained her faith and dedication to helping people, despite a backlash from church leaders and suffering ill health for many years up until her death in Sydney in 1909. Mary MacKillop's link with Eden came about when her mother, Flora, drowned at sea in the Ly-ee Moon in 1886, near Green Cape.
Mary's mother, Flora was on her way to Sydney in May 1886 to assist Mary with the Caledonian stall, raising funds for the Providence Home for the destitute and infirm, when the steamer ship, Ly-ee Moon, struck a reef, breaking into pieces and drowning 71 passengers and crew, with only 15 people surviving.
Within a fortnight of the tragedy, Flora's body was found intact washed onto the rocks near Green Cape. Extraordinarily and mercifully, Flora's body had not been damaged by sea or by creature before discovery, allowing her remains to be identified and interred with the dignity and grace required of the circumstances. Mother Mary and her family were very grateful to the people of Eden who tended to her mother's remains so carefully and respectfully.
This is also a stop on the Discover Eden tour.