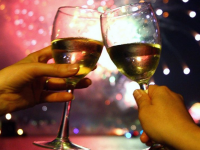 With less than 12 tickets remaining out of only 40, don't miss your chance to board the premiere Pelican Expeditions Fireworks Cruise and enjoy prime positioning for the NSW Port Authority Fireworks.
Tickets are $85 per person, including 2 complimentary drinks, gourmet finger food, good wines and beer, selection of non-alcoholic drinks, cheese and chocolates to finish.  Book by email: Alyeesha.Ahmed@kothes.com.au or admin@edenwhalefestival.com.au
A stunning sail cat, the Pelican is a research and story telling vessel based just up the coast at Bermagui.
The menu:
• Mini prawn cocktails in lettuce leaf,
• Vegetarian rice paper rolls,
• Rare roast beef bruschetta with caramelised onion & horseradish cream,
• Tomato, red onion, capsicum salsa on bruschetta,
• Sushi with smoked salmon; or egg with avocado, cucumber carrot and wasabi;
• Eden Mussels, with a Chilli Lime sauce;
• Oysters, with an Asian-inspired sauce;
• Mediterranean tarts with local Eden Smokehouse Seafood products.