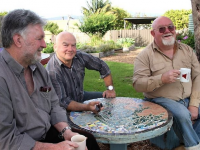 A long-running festival favourite, the Poet's Breakfast is a cosy gathering of local and travelling poets and wordsmiths, headlined by our resident bush poet Archie Bishop.
It's less than a minute's flat walk to the parade, which begins soon after the poets put down their prose.
There's also plenty of parking here, making it a great place to leave your car and make use of the free festival shuttle bus. Take a stroll around the thriving community garden, which has great views of Mount Imlay and Twofold Bay.
$5 includes breakfast