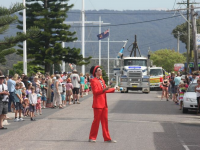 Small stage: 1pm | 3pm
Juggling chainsaws is just part of this trickster's repertoire.
Rhys' captivating shows combine extreme juggling, stunts, cheek and magic. From playful close encounters in the crowd, to a big loud finale, his show is perfect for the whole family.
Enthralled with the tales of the great magicians of old, Rhys said goodbye to the prospect of having a real job and  discovered a world of circus, magic, performance sideshow freaks. But Rhys had to go back to Bega. Because he goes to school.
Career career highlights already include vaudeville legend Mic Conway, The Space Cowboy and Zoe La'more's  Sideshow Wonderland, Mikelangelo and the Black Sea Gentlemen and dozens more.
Rhys loves what he does and hopes you love it too.
Visit him online here