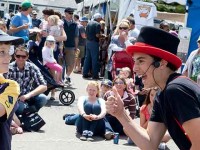 Wander the wharf and historical main street beginning with Poets Breakfast and roving entertainment before the big street parade heralds the start of the party at Snug Cove.
The party doesn't end when the sun sets, don't miss the fireworks spectacular at 9pm, a screening of the Killers in Eden documentary at the Garden of Eden at 7pm and live music by the Swamp Stompers at the Eden Fishermen's Club.
Find whales with experts, wether you are on a headland, at the Eden Killer Whale Museum or on a boat. Ashore there's local produce, music and pop-up galleries.
First time at the festival? Here's what you need to know.