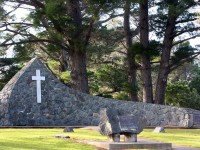 The sea is deeply woven into daily life in Eden. Not all who set out upon it return to shore, and each year we remember them with a special service.
All the churches in Eden come together to lead families in prayer at the Seamen's Memorial at Eden Lookout.
The granite wall was built by the people of Eden following the loss of the trawler Shiralee and all hands, in August 1978.
Today the wave shaped wall carries the names of 24 unfortunate souls lost at sea. Two of the plaques tragically bear two names, both fathers and sons, who were lost to the sea on separate occasions.
The earliest dates back to September 1881, when a Norwegian lad Peter Lia, just 22, was killed during a whale chase on Twofold Bay. Peter, an oarsmen for the Davidsons, was the only whaler to have ever been killed during the 100 year history of subsistence shore based whaling in Eden.
Records say that the chase was underway at night and that two of the Davidson crews had been led by Killer Whales to the whale, a large Southern Right. Peter's boat had harpooned and fastened to the whale, and while the boat was being towed the whale turned and dived, coming up underneath the boat and smashing it with its tail. Peter was directly in its path and his body was never found.