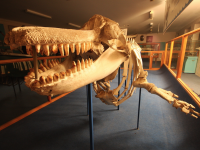 Take a day trip back in time. When boats were made of wood and men were made of steel!
It's a trail rich with whales and tales of adventure, a self-drive day tour that takes you to five historical sites set in breathtaking natural surrounds around Eden on the Sapphire Coast NSW.
Journey around Twofold Bay and uncover the dramatic history of whaling from 1828-1930 and learn about the unique relationship between whalers and the wild killer whales (orcas). Between August and November, these sites become perfect vantage points to view humpback whales as they migrate close to the coast. The journey can take half a day, or include a picnic or lunch stop and take your time.
You will find another chapter of the story at each stop. Bring your smartphone to scan the interpretive signs and view historical photos, video and audio to delve deeper into the story of the Killer Whales of Eden.
LISTEN or download eye witness accounts here (50 minutes).
WATCH the ABC documentary here (50 mins).
WHAT TO TAKE A picnic, or stop at an eatery in Eden; Weatherproof outdoor clothing; camera, smartphone.
Download the trail here, or grab a brochure from the Eden Visitor Information Centre or Eden Killer Whale Museum.