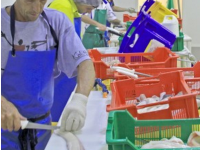 When fish comes off the boats most of it is carted from the wharf  across the road to Southland Fish Supplies.
Each year approximately 1900 tonnes of fish makes this short journey. Around 200 tonnes is filleted by the experts and you can see their knives fly and learn about modern fish processing in this short tour.
Tours operate from Tuesday to Friday between 9:30 and 11:30 am. Phone (02) 6496 3350.