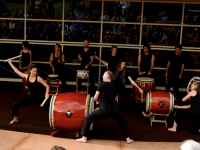 Parade | Small stage 12.30 | 2:40
Don't miss two explosive performances from our northern neighbours! The first is a short set at 12:30 while a longer ceremonial piece will rumble the skies from 2:40pm.
Taiko drumming is an ancient Japanese art form, that requires strength, power and grace. Used to summon the gods, communicate during daily village life and war, the giant drums also had their place in the imperial court.
Stonewave Taiko composer David Hewitt has trained as a percussionist in Australia and the USA and is a founding member of Australia's premier taiko (Japanese drumming) ensemble Taikoz. He has studied the art in Japan, toured internationally and now founded a local chapter in the Bega Valley Shire. (Among many other performance projects with 'The Spaghetti Western Orchestra', Chamber Made Opera, Australian Chamber Orchestra, Bell Shakespeare Company, Sydney Dance Company, Speak Percussion, The Song Company, Andree Greenwell, Robyn Archer and the Sydney Symphony Orchestra)