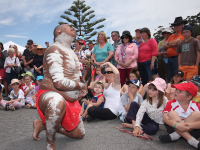 12noon to 12:30
Join the welcome to Yuin country, in the shadow of Balawan (Mount Imlay) at Snug Cove on Saturday with Pastor Ossie Cruise and the Beeyah Dancers from Eden Public School.
The hunting partnership between man and wild killer whale began with the local Aboriginal people, long before European whalers came to Twofold Bay.
It developed so that the killer whales would alert the Aboriginal hunters when whales were in the bay and would drive them inshore where hunters could spear them. Their reward was the delicate lips and tongue from the whale, a trade that became known as the law of the tongue. Later, the Aboriginal people passed this law onto the Davidson whalers, and became valuable members of the whale boat crews.
In 1798, explorer Matthew Flinders met a Yuin man on Aslings Beach, and an exchange of food followed:
'He was a middle aged man, unarmed, except with a 'whaddie', or wooden scimitar, and came up to us seemingly with careless confidence. We made much of him, and gave him some biscuit; and he in return presented us with a piece of grisly fat, probably of whale. This I tasted; but watching an opportunity to spit it out when he should not be looking, I perceived him doing precisely the same with our biscuit, whose taste was probably no more agreeable to him, than his whale was to me."