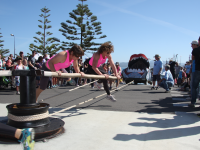 Do you and four mates have what it takes to haul a fully loaded capstan and beat the DoGs (Descendants of George)?
Or maybe you'll be racing the Eden Killer Whales Ladies Soccer team – either way there's a few hundred dollars up for grabs and the opportunity to revive skills of yesteryears whaling days.
Held in the middle of the cove, teams race to 'harpoon' a floating target then haul Benny the Whale ashore. One team member feeds the rope while the other four tear around the capstan, leaping over the rope each turn. Benny was once a Mitsubishi Sigma, but is now a festival icon.
DoG (Descendant of George) team leader Marty Davidson said Benny was built in 1998 and is almost as old as the festival itself.
"Evan Page built the capstan and Dad (Rene Davidson) Dallas Edwards, Bob Daly, Dennis Lees – the publican at the time – put a bit of time into Benny. I put a motor in it, Silk's supplied the car and it was built out at Storey Avenue."
Benny's boot is full of sand to make him heavier to haul, and other mutinies are always being discussed.
"One year Warren sat with his foot on the break while the footballers went round; he made their round hell."
"I've been on the 'wheel of death' and I'd rather not go on it again," he laughed.
"But I'm fairly sure someone's lining me up so I'd better get running."
Register your interest with Marty at lochara@bigpond.com