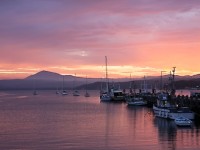 What's better than a Snug Cove Sunset? A Snug Cove Sunset with 5 BANDS AND FIREWORKS!
Don your fanciest all weather outfit and see a different side to the wharf precinct. The main stage will host five bands with a few surprises on the small stage too.
Food stalls, pop-up art, Port Authority of NSW Fireworks Spectacular at around 9pm. The gig continues at Eden Fishermen's Club with more local live music from local punk outfit Mind Tenants.
The Strides, a Sydney 8-piece fronted by the soulful, serenading, Barbadian Reggae Master Ras Roni and the talents and rhymes of Fijian Ltl Gzeus over a rock-solid rhythm and combative horn section.  With two acclaimed albums under their belt, a European label signing, festival appearances across the country and having graced the stage with the likes of Julian Marley, Tony Allen and Groundation, The Strides' music faithfully builds on the foundations of classic roots reggae with a hip-hop edge, forging a sound that brings together modern dance hall, ska, dub and reggae pop.
The Strides have forged a truly global sound melding a diversity of cultures and instrumentation under the one universal consciousness. The set will feature hits from their third and newest album "The Youth, The Rich and The Fake" which was written in residency at Campbelltown Arts Centre, recorded at U-Live Studions, Byron Bay and mastered in Los Angeles by Dave Cooley.
n 2010 Sydney based duo kyu arrived for what was a short but sweet time as one of Australia's finest young experimental pop outfits. Unearthed by triple j and awarded a Qantas Spirit of Youth Award, the pair seemed to be on the cusp of something great.
12 months later Alyx Dennison and Freya Berkhout announced they would be parting ways and that kyu was no longer.
Fast forward to 2015 and Alyx is thrilled to present new music as a solo artist. Her debut self-titled solo album is an evocative, sweet, percussive and completely unique journey that sees Alyx explore a range of musical genres and sounds that reflect her own personal journey. Alyx will perform at the Eden Whale Festival fronting a band of some of Sydney's finest musicians.
Pheno brings 21st century science to the wild rhythms of Afro beat, Indie rock and Jazz. Her music layers shimmering electric guitar, electro synths and beats with a stomping backbeat and powerful vocals. This is the exciting new musical outfit for guitarist / vocalist Jess Green. Audiences may remember Jess performing with Blues legend Jim Conway, Jazz greats The catholics, or indeed leading her own groups including The Bright Sparks or The New Dynamites. Most recently Jess was seen down south featuring as guest vocalist/guitarist for Dan Scollay's Gospel Workshops in Bega. In this four piece Jess brings together the musical talents of co-collaborator Alyx Dennison (Kyu) and Sydney Jazz drummer Bonnie Stewart, as well as cross media artist Cameron Haas.
Nixer Mob
Since their first public Sunday session in January 2015, Nixer Mob have impressed audiences all over the southern Sapphire Coast. Vocalist and guitarist Chelsie Atkins and Cherryl Willis (harp/whistle) have been playing together for years and the addition of Nathan Lygon (didge) and more recently drummer Shania Aldridge (age –) has given the band a bigger stage on which to play.
Studio time is underway for this lot, Nixer Mob is a space to watch.
We thank Ports Authority NSW for their sponsorship of the fireworks, along with East Coast Radio and the Eden Marine High School music community for their ongoing support and ask that you donate a coin at the club to help pay for next year's gig.