Head to Imlay Street on the Saturday morning of the Festival and grab your place to catch all the mad, wonderful clamour that will be this year's the ANWE Street Parade.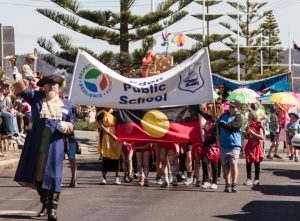 Floats, truck displays, school groups, local clubs and hot rods combine to make this one of the most famous parades on the coast.
The parade will start on Imlay Street in front of the Eden Fishermen's Recreation Club, it will go along the main street until the Bass Street round-about where it turns right and follows Hosies Road and Aslings Beach Road.
From there we arrive at the Barclay Street festival grounds to mark the beginning of a full day and night of entertainment and activity.
We are still inviting community groups, clubs and schools to enter our parade this year. Go crazy with this year's theme "Mad Hatter"
The parade is made possible thanks to our Major Supporters Australian Natural Wood Exports (ANWE).
There are prizes up for grabs courtesy of key supporter Gippsland Tyre Service:  Best Themed Float or Walking Group, Best Log Truck and Best of the Rest.
Download your entry form from our forms page.
Watch out for our complete program coming soon.