The sky over Eden will be awash with colourful characters again this year. Get ready to be delighted by kites! Why not bring yours along and fly it with the best.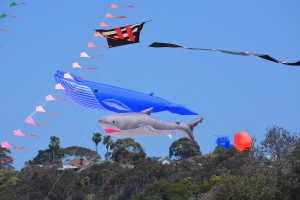 They're here again! We're in for an awesome display thanks to the Australian Kite Flyers Society.
This group is responsible for the hugely popular Festival of the Winds on Bondi Beach. Kite flying is something they take very seriously.
All weekend there'll be dozens of the world's fanciest kites in the sky; we hope you join in to help make it hundreds floating on high!
There'll be lots of classic flyers as well as some really special ones. From fish, whales, lizard, birds to astronauts and aero kites, the members of the Australian Kite Flyers Society fly it all.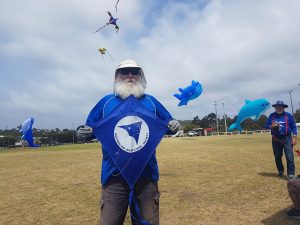 Not only will the Society fly kites all weekend from early morning to late in the day,  they'll also be teaching festival-goers how to make their own kites and how to become better flyers.
Bring your own special kite to show off or take part in one of our workshops where you'll learn to make and decorate your own kite.
The kites will fly at the Festival Grounds (soccer ovals).
Our kite-flying extravaganza has been made possible this year by Bega Valley Club Grants.
Check out the other great events happening over the weekend on our program page.