Discover Eden is all about continuing the search for whales from shore or sea and exploring our friendly town and natural surrounds.
First time at the festival? See our guide!
From early Kite Flying Display Festival Grounds (soccer ovals). Bring your own kite and join in.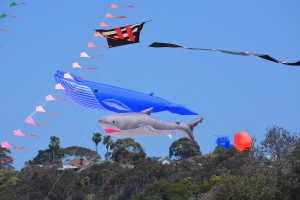 9:00am Seafarers Service Eden Seafarer's Memorial, Bramble St, Rotary Park.  This outdoor church service will remember the contribution made by Seafarers,  lives lost and dangers endured.
Acknowledge the value of seafarers, their skills and the produce and wealth they harvest for our nation.  All welcome.
9:30am-3:30pm Port Authority Exhibition Centre Seven displays in one place at Imlay Street.
9:30am Shoalhaven  Street Rodders Show and Shine Over 60 vehicles on show!
10:00am-3:00pm Marine Rescue Open Day
10:00am-3:00pm NPWS Davidson Whaling Station Open Day Explore the beautiful historic site and chat to the locals over a cup of billy tea and damper.
11:00am  Photography Competition Award People's Choice Award announced and presented at Show and Shine.
12:00pm-2:00pm Red Heart Blue Band @Sprout Eden Good vibes, good music and some Rock&Roll moves too!
7:00pm  'Blue' the film at Uniting Church Hall Chandos St. BLUE aims to create awareness about the key issues facing our oceans today. Come see the film and join the conversation.
Entry: $10 adults, free children. Light refreshments provided.
Free family entry if you bring a shopping bag of rubbish cleaned from local beaches.