Australian Chainsaw Carving Champion Rob Bast returns to the Eden Whale Festival this year!
Winner of the 2017 Australian Chainsaw Carving Championship, Rob Bast always impresses festival goers with his beautiful sculptures carved in front of our eyes.
[column col="1/2″][youtube height="HEIGHT" width="WIDTH"]https://www.youtube.com/watch?v=A8NitCD_ZsE[/youtube][/column]
Watching Rob Bast at work with a chainsaw as his primary sculpting tool is an impressive sight. The results and his finished sculptures are even more impressive!
Rob will be hard at work on the main festival day Saturday creating a number of stunning sculptures for display to our visitors.
Rob is a self-taught sculptor from the Yarra Valley in Victoria Australia.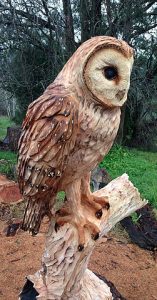 Having always enjoyed drawing and sculpture, Rob started chainsaw carving in 2003 and then started sculpting full time in 2009 building a thriving business concentrating on chainsaw carving and metal sculpture.
He works with various materials such as wood, steel, ice and stone. His work is on display throughout Australia and he features at a number of festivals and shows including the Royal Melbourne Show.

Since 2007 Rob has won a number of chainsaw carving competitions in Australia, Canada, America and Germany.
We are thrilled to have Rob back again this year and look forward to seeing what he creates for us.
Thank you to Pentarch Forestry and South East Timber Association for bringing Rob Bast to the 2019 Eden Whale Festival.